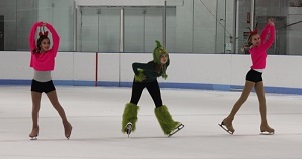 Each December, Shaker Figure Skating Club members are invited to participate in the Club's annual Holiday Show.   Skaters may perform solo, as a duet or trio or in a small group.   Skaters from the Club's Bronze Clinic typically open the show with a group program, which provides our beginning and pre-preliminary level skaters the opportunity to showcase the skills that they have learned in a group setting.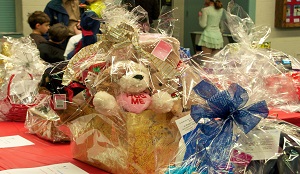 The Holiday Show is a relaxed, informal way to kick-off the holiday season. This year our show was held on Saturday, December 9, 2017.
Thank you to all of our volunteers, bakers, donors and skaters for helping to make the 2017 Holiday Show successful.
Special thanks to Sharon Deutchman for collecting the registration fees; Stacey Krantz and Alicia Munn for planning and running the bake sale; to Debra Hollander for preparing the Program; to Miki Graban helping with the coloring contest and for being there all afternoon helping; and to George Hawk, for being the announcer. Extra special thanks to Carolyn Hawk for all of your work on the gift baskets.
Thank you to everyone who donated to our gift basket raffle:
Abuelo's Restaurant
Alicia Munn
Avanti Salon
Barbara Fitzgerald
Beegun Family
Bicycle Boulevard
Brooke Mitro
Captain Tony's
City of Shaker Heights
Daria Classen
Deutchman Family
Glazer Family
Graban Family
Hawk Family
Hollander Family
JPistone
Juma
Khayat/Mishne Family
Koppitch Family
Leiken Family
On the Rise
Paley/Fusco Family
Pam Olzsko
Paull Family
Pitas Family
Robinson Family
Rukin Family
Shaker Figure Skating Club
Skaters Edge
Stone Oven
Studio Taylor
Vasavada Family
Contact Rochelle Paley for more information.